Vacuum Insulation Glass: Advantages
In comparison to conventional double glazing, the insulating effect of vacuum insulation glass (VIG) is two to three times better. A further reduction in heat consumption of 20 - 30 % can even be achieved compared to good triple-glazing systems of passive house standard. In contrast to triple glazing, VIG is considerably slimmer and lighter.
One reservation about VIG that many have is that the supports between the panes distort the view through the glass. The supports are, however, so small and unobtrusive that they can only be seen close up. The visibility is not impaired in any way.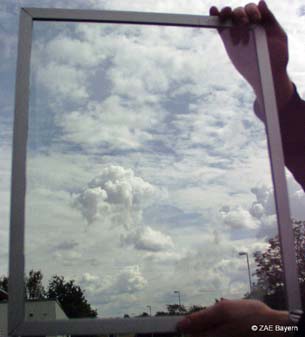 View through vacuum insulation glass (VIG). The supports between the panes can hardly be seen and do not impair the visibility through the glass.